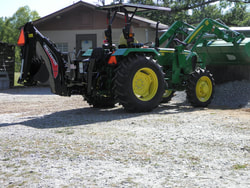 We are moving forward to better serve you. My Husband JIMBO on our newest tractor working on the new expansion.
outside covered kennel runs
Puppy yard project
This yard is used for our Kerry Blue Terriers. When we have puppies this yard is only used for Dam & her pups. We are putting a concrete pad in for them to be able to be up in a cleaner safer environment while they are outside in the puppy learning center area we have made for them. The pups will be able to have a nice area to enjoy there first few months of life as a Kerry Blue. As we can it will become a outside inclosed room/yard for the mothers & pups.
Brenril KBT's dog yards
We are making better personal dog yards. They will have more room to stay fit. It will be very impressive once finished. We will have beautiful yards for this magnificant breed to be seen in.
Dog show trailer
We are converting a 4 horse with dressing room trailer into a dog show trailer.
4 acre Lake
We are restoring this lake to be able to serve you in your needs. Like- walking dog trail around lake, dog swiming, dock dog diving & More. This will be all enclosed in fencing to give a secure area for those that are using the area. We are making progress for your enjoyment with your pets. Lots more to come wait and see what we have to build for your dog needs.
This is how Jimbo & Skip enjoy there spare time out on one of our lakes.