PUPPIES ARE HERE AT BRENRIL BORN NOVEMBER 4, 2017 8= 1 MALE 7 FEMALE Contact Brenda for information of puppies email brendaskbts@gmail.com or phone 706 628-4557
Brenril - Kerry Blue Terriers
Brenril KBT's playing ball
---
Blue Buffalo Dog Food feed at Brenril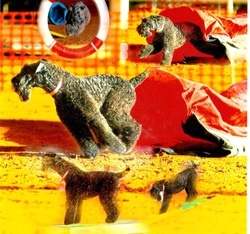 ---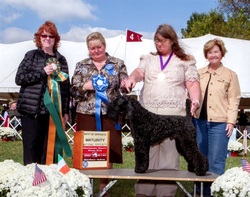 ---
UNTIED STATES KERRY BLUE TERRIER 2016 HANDBOOK BRENRIL AD PAGES 1-7 Brenda designed these ad pages for the USKBTC Handbook.
BRENRIL PUPPIES ARE MADE TO BE BETTER DOGS.

THE FIRST EIGHT WEEKS OF A PUPPY'S LIFE IS SO IMPORTANT IT SETS THEM UP FOR LIFE. THE MORE THEY LEARN AND GET TO EXPERIENCE WILL MAKE BETTER DOGS. THEY WILL HAVE AN ATTITUDE BEEN THERE DONE THAT NO BIG DEAL.

WE USE A PUPPY LEARNING CENTER THAT THE PUPPY'S LEARN LOTS OF INFORMATION THAT THEY CAN USE THE REST OF THERE LIFE.


LOTS OF HUMAN CONTACT FROM DIFFERENT PEOPLE, CLEAN ENVIRONMENT, TOYS, OBSTACLES, SOUNDS(GUNSHOTS, FIRECRACKERS, MACHINERY, ETC), OF ALL DIFFERENT TYPES ARE USED WITH PUPPIES TO STIMULATE THEM.


THE PUPPY'S WILL HAVE BEEN SWIMMING, CAR RIDING, CRATE TRAINING STARTED, HOUSE TRAINING STARTED, TAIL DOCKING, EAR SETTING, GROOMED, LOTS OF VALUABLE LIFE KNOWLEDGE, ETC.


THE PUPPIES BUILD MIND, MUSCLE, CONFIDENCE, SOCIALIZATION SKILLS HERE AT BRENRIL.

THEY ALSO WILL BE UP TO DATE ON SHOTS. DEWORMED, MICRO-CHIPPED, AKC REGISTERED.

WE RAISE THEM UP IN OUR HOME WITH THE FUTURE DOG THAT THEY WILL BECOME IN MIND. YOU WILL SEE THE DIFFERENCE WHEN YOU GET A BRENRIL KBT PUPPY!
NOVEMBER LITTER - NOVEMBER 4, 2017 8 - 1 BOY 7 GIRLS Contact Brenda for information on availability phone # 706 628-4557 or email brendaskbts@gmail.com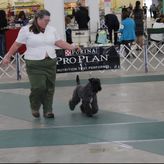 ---

---
MEMORIAL DAY LITTER - MAY 29, 2017 6 - 5 BOYS 1 GIRL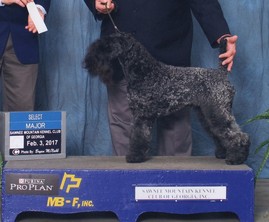 ---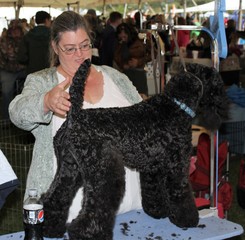 ---

​MARCH 13, 2017
​7 - 4 girls 3 boys
All puppies have been placed

DAM OF LITTER "K" BRENRIL KERIFIELD KERION B FOREVER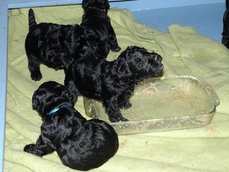 ---
PUPPIES BORN FEBRUARY 5 & 6 2016
Litter #1
FEBRUARY 5 BRENRIL I CAN SEE CLEARLY NOW "C" X BELTANE ROCKIN THE BOAT AT BRENRIL "TIFF" 6 = 1 BOY 5 GIRLS
Litter #2
FEBRUARY 6 BRENRIL I CAN SEE CLEARLY NOW "C" X LISIJI BRENRIL ULTIMATE PEACEMAKER "GLORIA" 4 = 1 BOY 3 GIRLS
PUPPIES HAVE WONDERFUL PARENTS. HEALTH TESTING DONE ON PARENTS. C THERE SIRE IS MAKING QUITE A SPLASH IN THE RING. TIFF IS AN AWESOME SHOW DOG. GLORIA IS OUR BEST MOTHER AT BRENRIL


SIRE "C" BOTH LITTERS DAM FEB 5 LITTER "TIFF" DAM FEB 6 LITTER "GLORIA"
Puppies Born July 20, 2015 4 - 3 Girls 1 Boy. Mulitiple Champion GCH CH Kebulak Born To Tease "Bruce" X CH Kerifield Heavenly Sailin Brenril CGC "Brandy" Bruce & Brandy are proven producers. Health testing has been done on both dogs. They both have wonderful temperments, clean movement with reach and Drive, plus beautiful color. Puppies have a wonderful set of parents.


GCH CH KEBULAK BORN TO TEASE "BRUCE" Multiple Champion Kerry Blue Terrier Bruce is from Kebulak Kerry Blue Terriers in England. Owned & Lives in Brazil. Staying in US for the year to be show & racked in AKC dog show world. He is handled by Celso Schneider from Brazil. Bruce has multiple Best In Shows from all over the world along with many Championship titles also from all over the world. He has a wonderful conformation & temperament. Bruce will make a nice addition to our breeding program. Below are a couple photos of his large successful career as a Great Kerry Blue Terrier & show dog.
click on pictures to enlarge
BRUCE X BRANDY LITTER JULY 20, 2015 WHELP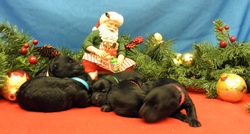 ---
CHRISTMAS EVE PUPPIES PICTURES 12/24/14.
Click on pictures to enlarge
LITTER 2014 whelped June 1, 2014
CH KERIFIELD HEAVENLY SAILIN BRENRIL "BRANDY" X GCH CH KRISMA'S LICENSED TO THRILL ROM "LAZER" with a litter of 9 pups - 5 males 4 females. GCH CH KRISMA'S LISCENSED TO THRILL ROM "LAZER" Sire of litter #8 KBT in 2009 see more of Krisma at http://www.krismakerries.com Lazer is standing at Krisma Kerries. Other websites to visit are www.beltanekerryblues.com and www.kerfieldkerries.com



You can also see video of puppies on www.youtube.com and type in Brenril kerrys Brenda W.

click on pictures to enlarge & see caption
Lazer Brandy litter June 1, 2014 pictures
Litter from April 14 2013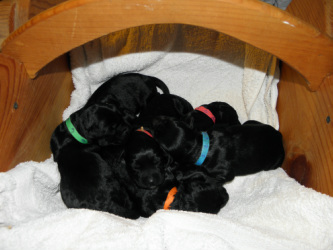 Brenril puppies 5 days old
---
Brandy & Charlie Dam & Sire of April 14, 2013 litter puppy pics
Brandy & Charlie Pedigrees
BRENRIL KBT'S AT WORK & PLAY
Jimbo & Brenda's wedding at Callaway Gardens 2012