Brenda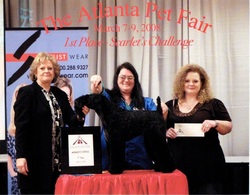 Brenda with Gem her KBT a 1st place at the largest pet grooming competition in the world, Brenda has won several times at the largest grooming compeition in the world.
Brenda's god given talent of pet styling and pet handling is at work every day.
Brenda in 1991 started her career in Pennsylvania. When she moved to GA in 1993. She got a job at the local vet grooming pets. Opening her business in 1997 she in the last several years is making many steps to making the business better.
Brenda has won many awards in pet stlying competitions. Her talent contiunes to grow daily with her love to be grooming. Even though most of her clients are just loved pets of all different mixes and pure breeds. Brenda also spends her time grooming at dog shows on AKC dogs. Along with raising and showing AKC Kerry Blue Terriers.
Her talent in handling the dogs through calm assertiveness. Many dogs not able to be groomed by other groomers are calm and relaxed under Brenda's care.
If you are unhappy or not sure if you are getting good quality grooming and care. You need to give her a try you wont be sorry you did.
---
Jimbo
Brenda's Husband since 2012. Jimbo on his third hand a John Deere tractor. You will find Jimbo doing many things around the business. Kennel work to building. He is always busy with something when he is not at his full time job. Jimbo's knowledge in the building of construction/building of the land is making many upgrades to the business. His knowledge is priceless to the business. Come & see just how we are improving the business.
---
forms of payment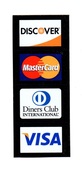 Cash, Check & Credit-Debit Cards
---
COUNTY LICENSED STATE LICENSED & INSPECTED
Certified By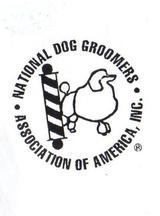 Brenda is certified By NDGAA.
Founded in 1969. These groomers share a commitment to the humane care of your pet, grooming excellence, fair business practices and public health & safety.
In oder to become a NDGAA certified groomer, the groomer must meet NDGAA's high standards of grooming excellence by undergoing and passing a series of strenuous tests designed to evaluate their grooming skills and expertise.
NDGAA certified groomers must agree to abide by strict Code of Ethics governign business, customer relations and advertising practices.
NDGAA certified groomers are leaders in their field, able to serve you with their expertise and well developed knowledge.
www.nationaldoggroomers.com
---
Grooming

Brenda is the groomer. She has been grooming since 1991. Although you may see others helping in the business they are her assistants. Grooming consists of : Just nail trim & file, anal gland expression, bathing-regular, flea & tick, medicated & conditioning, clip downs, pet styling-breed & custom styles, show grooming & conditioning. Full groom consist of hair styling or clipdown, ears cleaned, nail trim & file, bath, anal glands, drying coat, bandana, spray of cologne. Brenda prefers that you keep your dog on a grooming schedule it is so much better for your pet in so many ways. Like they always look good not that overgrown look. Nails also are something to consider when they come when needed they don't get too long and cause problems. Did you know that long nails on a dog causes discomfort from the foot clear up to the spine. Because it offsets everything in their skeleton and muscles. Having your dog done when needed I can help detect problems before they get out of hand. Like-fleas/ticks, a skin condition, ear problem, or even an injury you did not know about. I have the knowledge and tools to keep your pets coat healthier by coming in when needed. How often you wonder? It all depends on the dog and what the owner wants to do. In January 1, 2013 There may be a increase in the price of pets cuts that are overgrown & or matted. To cover additional time, supplies & expertise. To avoid this charge next time you can schedule an appointment. First time customers will be charged according to the dog's coat condition. I welcome new clients. Call for pricing.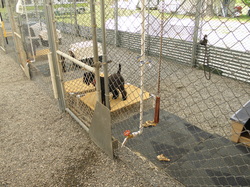 Kennel runs - Dog houses, raised beds, rugs, automatic waters,Fans.
---
Boarding
Dogs are kept indoors (large varying sizes separate kennels) & outside in large (10'x 10' & 10'x 20') covered kennel runs, depending on weather and dog to how long they are outside. Blue Buffalo is feed to boarding dogs. Brenda's Homemade Doggy Biscuits are given. We provide all the dishes blankets/bedding, toys, chew bones, & extras your fur-kid may need. The inside is air-conditioned and heated when needed, good fresh country air flow both indoor kennels when weather permits and outside runs (outside runs have lots of high-volume fans for warmer days). The outside kennel runs all have automatic waterers, dog houses, raised dog beds, rugs, and are well lighted so we can be able to take better care of your pet when the days are short. We use a Natural cleaning product ProVetLogic cleaner it is a mix of microorganisms and chemistry to provide Bio-enzmatic cleaning even a scent that the animals have apporved. All The kennels are on our property we live on so your pets get more care. We are out in the kennel late in evening and early in the morning caring for your pets. That is hard to come by. There is a daily boarding fee charged price varies per dog. All pets that come to stay enjoy there stay and look forward to coming back.
Times of Business
Normal hours are: Monday-Friday 9:00-5:00 Saturday by apt. Sunday boarding check in & out out of town guest only. Closed to locals on Sunday.
Origanizations belonging to

ROOSEVELT WARM SPRINGS INSTITUTE FOR REHABILTATION
Brenda has been a work site for RWSIR since 10-2008. She loves helping these students learn a trade in animal care. You will see these students helping in the business. They look forward to coming to work and learning. Brenda's guidance and the love of the animals are a wonderful experience for the students. Look in Gallery Photos for pics. of some students, even though she has been doing it for years she has just recently in 2012 started taking photos of the students.
Deflea your new pet before you take them home.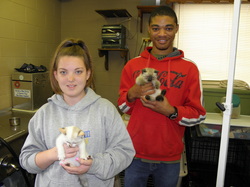 If you are getting a new fur-kid. May I suggest you bring them in for a flea bath. To make sure you don't take a family of fleas home to breed and populate your home. This is a great idea. It is a whole lot cheaper in the long run. Even if you don't see fleas. Theses two kittens each had about 10 fleas on them that could not be seen until I bathed them.
The two young adults are friom Roosevelt Warm Springs Institute For Rehabiltation. They are wonderful assitants to Brenda.

---
Future things at BPGBM
We will be adding more things for your dogs to do as we can build the places. For example- New Building, Dog obedience, agility, dog walking trail, dock diving, outside large dog runs for playing ball & etc. obidence training, conformation classes, rally training. This business wants to become your dog/man's best friends play & learning center.